How Muccia Plumbing, Heating and Air Conditioning does a Tune-Up aka air conditioning Start-Up:
For Muccia Plumbing, it's that time of the year. Or should I say that OTHER time of the year? Living and working in the NorthEast, we truly pay attention to two seasons – winter, when we need to make sure our heating system is working as designed. And summer, when brutally hot and humid days and nights can make living in New Jersey and the tri-state area clearly painful.
This edition of Mike's Tips, we focus on what we, as trained air conditioning techs, do to ensure that your air conditioning and ventilation system is keeping you comfortable without surprises. Let's focus on the starting point which is the assumption that you have a central air conditioning system, a compressor outside your premises, and the airbox which takes the cooled air and distributes it throughout your home. Here's where annual maintenance will help you avoid surprises when the outside temp is 95 and the inside temp is a comfortable 72.
However, beyond relying on your air conditioning system working when you need it, there are other things we do which reduce the costs of the energy used to run your air conditioning system. We also know which parts can be serviced to extend their life and the life of the entire system.
Coils:
The coils are the central part of the system and when not, clean they reduce the ability and efficiency of the unit to cool your home. What do coils do? Coils are used for evaporation and condensation purposes. When Team Muccia is done cleaning coils, it permits the conductive properties to do their job. Or to think of it another way, dirty coils force the system to work harder to circulate and handle evaporation and condensation. Working harder equals higher energy costs and generally reduces the life of the system.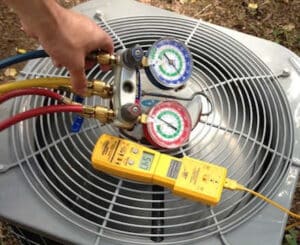 Refrigerant:
Our next step is to check the refrigerant level. While there is an owners view of the refrigerator level, Team Muccia brings tools that inspect the refrigerant level. Since it's a sealed system, if there is a significant loss of refrigerant, it tells us there is a leak somewhere. If such a leak is discovered, our techs will initiate the repair and refill the refrigerant level to it exact point on the gauge per manufacturers instructions.
Often we find that homeowners, in an effort to get a quick fix and avoid a service call, will add refrigerant. Very often this creates a new problem as too much refrigerant is equally as bad as too little. It actually can eat away at the system components and significantly shorten the system lifespan.

Air Filters:
As the name suggests, these filters allow warm air from inside the home to literally be sucked into the airbox where it gets cooled and redistributed.
Changing an air filter is often not a difficult job, and can be done by most homeowners as long as they are physically able to balance themselves on a stool or ladder to open the filter cover.
The only other step is to ensure that the airflow is going in the right direction. On the sides of the filter will be an arrow indicating which way the filter should be placed. If the filter is going into a trap it should fit snugly and the air flow should go in the direction of the AC unit. If you have a question, make a note of the direction the arrow is pointing when you begin to pull it out. If you are still unsure, call Muccia Plumbing to help guide you. BUT remember safety first. It's not worth a few dollars to have a trained tech do the filter exchange and not fall off a stool or ladder. Filters should be changed once a month. Depending on the size of your home, you may have several filters to change.
Conclusion. Just like a dirty oil or engine air filter can cause an automobile to run poorly and consume excessive gasoline, a dirty air conditioner filter can drive up costs, and premature failure.
Air Flow:
Just like a clean air filter is important to providing warm air in to let cool air out of the air conditioning system, the Muccia Inspection includes inspecting the system's airflow parts.
When you pull out the filter, dust, pollen, dirt, and debris can pass thru and clog the flow of air. Muccia Plumbing trained techs will do an end to end inspection of the airflow vents. It's often amazing how much dirt and dust can get past the filter, especially one that hasn't been changed in quite some time, or exceptionally low-cost filters that don't do the job properly.
Thermostat(s):
One of the simplest items to service yourself is replacing the batteries in your thermostats. We have all heard the expression to change smoke detectors twice a year – when you move the clock back an hour and when you move the clock forward an hour BUT do you do the same with the batteries in your thermostats. You may have separate ones for different "zones" or heat and cool on separate thermostats. Here's an easy one, since thermostats don't require getting on a ladder. They are usually 2 AA batteries, and as long as you have them go back in the way they came out, there won't be a problem.
Summary:
Let's face it. Regardless if these heat waves are man-made or natural, summer in NJ has gotten progressively hotter, and the humidity on top of it makes us feel like we are living in the desert. If you have medical issues such as Asthma or COPD or you require medically ordered oxygen, being uncomfortable in your own home is risky, and frankly unnecessary. Muccia Plumbing, serving Bergen County for more than 40 years, is your trusted advisor on what you need to avoid breakdowns and enjoy the summer. Our service book for AC tune-ups fills up quickly this time of year, so we encourage you to get your appointment scheduled ASAP. We want you to have a happy, comfortable and worry-free summer.
Call us TODAY at 201-343-1414 or visit our website at mucciaplumbing.com
PS. If you visit our website mucciaplumbing.com/coupon/ there is a $25 off coupon which good for the AC tune-up. Place your trust in us and we will not disappoint you.